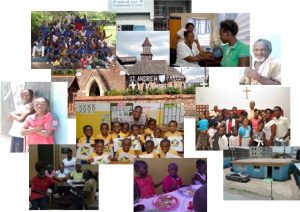 Motto
"Making a difference in Majesty Gardens."
Vision
"To transform the Majesty Gardens community to a self-sufficient, educated and peaceful community."
Background
The St. Andrew Settlement (SAS) was founded in 1965 by the Anglican Diocese in Jamaica as an outreach project of the St. Andrew Parish Church. The main objective of SAS is to aid the development of the Majesty Gardens community through spiritual and social activities including education, skills training, health care, youth development and environmental awareness so they can build a healthy and productive community. The Community Centre is also the registered shelter for the community during times of disaster.
Majesty Gardens is located off the Spanish Town Road, west of the Hagley Park Road round-about, nestled between the D.C. Tavares Market and the Agricultural Marketing Corporation (AMC) and houses over 4,000 residents, 1,500 of whom are children. The community is characterized as having a high population density, with the majority of its population living below the poverty line. The SAS also serves the adjoining communities of Hunts Bay and Payne Avenue. The SAS houses a Community Centre, along with a  Mission House, Health Centre, a Dental Clinic, and two early childhood educational facilities.
In 2005 SAS received the Gleaner Company "Man of the Year Award' for its work and contribution to the development of Majesty Gardens and in 2015 SAS celebrated its 50th anniversary supporting the growth of the Majesty Gardens community.
Management Board
The governance structure of The Settlement provides for management oversight by a Management Board which includes volunteers from the St. Andrew Parish Church, The Rector and a representative from the community. They meet on a monthly basis to review policy and the finances of SAS and set and approve the annual strategic objectives and programmes for SAS.
The 2016 Board Members are:
| | |
| --- | --- |
| Canon Major Sirrano Kitson | Rector |
| Greta Bogues | Chairman |
| Rohan Scott | |
| Tricia Jackson | Secretary |
| Tricia Daley | Executive Director, SAS |
| Elesia Blackburn | |
| Lisa Campbell | |
| Nicki Franklin | |
| Desland McKenzie | |
| Janna Patel | |
| Janet Shaw | |
| Diane Tomlinson-Smith | |
Administration and Staffing
The St. Andrew Settlement's day to day operational activities is managed by an Executive Director, who along with two Principals, a Social Worker, Nurse and 12 other full-time  staff  members provide services for the community.
Address:
St. Andrew Settlement
Majesty Gardens
P.O. Box 152
Kingston 11
Phone Number: 876-923-9162, 876-901-3242
Email address: saintandrewsettlement@gmail.com
Web Site: https://StAndrewParishChurch.com/home/our-ministries/outreach-ministries/sas/
St. Andrew Parish Church
Hagley Park Road,
Kingston 10
Phone Number: 876-926-6692 / 876-923-9162
Email address: standrewch@cwjamaica.com
Web Site: https://StAndrewParishChurch.com
Our Work
The St. Andrew Settlement offers a wide variety of services which provide direct benefit to the residents of Majesty Gardens. The key objective of our programmes is to educate, challenge and plant seeds of transformation and spiritual development in the hearts and minds of members of the community.  These services and programmes are broken down into four (4) categories: