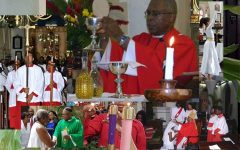 The St. Andrew Parish Church
Diocese of Jamaica and the Cayman Islands
We are devoted to praising God through our lives, work, and the various ministries that promote the values and teachings of our Lord Jesus Christ.
We are located in Half Way Tree, St. Andrew, where we share Christ's message of love, peace and redemption with our brothers and sisters in the communities around us, and also in the communities of Kencot (St. Clement's Mission) and Majesty Gardens (St. Thomas Mission).
You are invited to join us for Sunday Services every week as follows:
6:30 a.m. – Holy Eucharist and Sermon.
8:00 a.m. – Sung Eucharist and Sermon, and Sunday School.
10:30 a.m. – Morning Prayer and Sermon. Holy Eucharist and Sermon on fourth Sundays.
5:30 p.m. – Evening Prayer. "Sundayz @ Dusk With Jesus" on fourth Sundays.
Our address and telephone numbers are as follows:
Address:
Hagley Park Road
P.O. Box 703
Half Way Tree
Kingston 10, Jamaica
Church Office:
876-968-9366
876-926-6692
Fax:
Email:
Website:
Rectory:
Curatage: